Tornadoes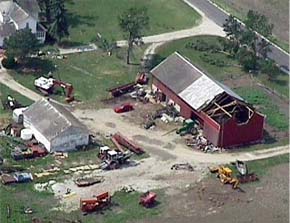 A tornado -- often preceded by a violent thunderstorm, high winds, and possibly hail -- will usually move onto a farm with great speed with winds ranging to 300 miles per hour. Tornadoes can wreck buildings, orchards, homes, and cause breakage of vital gas and electrical systems, causing possibility of fire. A tornado's presence is potentially ruinous.
Survival in a tornado depends on seeking appropriate shelter before the tornado arrives, and time may not permit preparation for the agricultural operation itself. While community infrastructure and public areas are substantially damaged by tornadoes, damage to an agricultural operation can also be substantial.
Crops can suffer washout in the violent downpour and possible flash flood preceding a tornado. In the short term, crops planted for the season may drown and die, causing loss of income for flooded fields, and the loss of seed for next year's crop, requiring an outlay next season.

Buildings may have suffered irreparable damage through high, ripping winds. When roofs are ripped off -- a common form of damage in tornadoes -- the contents of the buildings may be harmed: livestock, hay and grain, equipment, pesticides and othe agricultural chemicals.

Livestock may be killed on the field by wind damage or lightning strike. After a tornado, water supplies may be fouled, and stored hay and grain may have become wet and therefore is unusable.

Fences are uprooted and twisted in high winds and need repair or replacement. Debris of all types may need to be cleared from the land at the owner's expense.

A farm's soil quality determines the value of the property. The top 6 to 8 inches of soil determine the ability of crops to grow and During flash flooding, severe erosion make take place, erosion which necessitates future rehabilitative measures.

In the natural environment, forested areas may suffer tree breakage and death due to the twisting, high winds of a tornado.

In the long term, farm families that have experienced a tornado can expect to replace a high percentage of their infrastructure and buildings, due to the severity of the storm, adding more indebtedness to their burden.
Back to Disaster Types
Homepage | News | Farm Disasters | Assistance | Preparation | Resources

Get Help | About | Links | Email Lists | Search | Disaster News Network | Email

Farm Disaster Resource Net is maintained by Disaster News Network. Copyright © 1998-2007 Village Life Company. All Rights Reserved